"Sleep all day. Party all night. Never grow old. Never die. It's fun to be a vampire." - movie poster for The Lost Boys.
Is it true? Spend a night with us and find out for yourself.

Dracula's Ball is first and foremost a party. The common thread that runs through all of our guests is the desire to have a good time in an unusual and exciting atmosphere. Some have a passionate affinity for vampires that has been part of their lives forever. Some have occasionally tuned in to an episode of True Blood or scanned the racy parts of an Anne Rice book. Whether you feel deeply drawn to vampires on a personal level, or you just think they're sexy or cool, we welcome you.

While our Halloween event is definitely the most anticipated Ball of the year, Dracula's Ball takes place every three months. It is held exclusively in Philadelphia and is the largest event of its kind in the country. The Ball has been held at a variety of venues around the city for over a decade.

Obviously, our party has a strong vampiric theme. We do our best to create an atmosphere that suggests dark romance, a hint of danger, sensuality, and all things nocturnal. We do not promote nor do we allow the drinking of blood or any other unsafe practices at our events.

Our patrons come from all over the country and sometimes overseas. Typically, almost half of our patrons are from at least 100 miles away from Philadelphia. Our guests are a diverse group, representing a wide range of ethnicities, religions, orientations, ages, and lifestyles. Vampire legends are universal and cross all boundaries; so it is with the Ball as well. From Christopher Lee and Bela Lugosi to Twilight and True Blood, whether your interest in vampires is casual or serious, newly-found or long-running, there's a place for you at Dracula's Ball
The Ball features two live bands who play short sets during the event. Our bands and DJs come from around the world; a number of European bands come to play their first-ever American concert at Dracula's Ball. A list of bands along with photos of some previous entertainers can be found in the photo gallery. Our guest DJs play music in a variety of genres to fit our general mood, including gothic, new wave, industrial, synthpop, metal, EBM, eighties, world music, and more. Fast, slow, sensual, hard, dark, mystical, heavy, loud, lush; the list of musical adjectives is long. The Ball also features the talents of other performers, artists, and craftsmen. Everything comes together to form an event that we feel is unique, entertaining, exotic, and exciting - and our regular guests would seem to agree.
Photo cameras are welcome at Dracula's Ball. Video cameras are not. The Ball is open to guests of all ages. In accordance with state law, alcohol is served in a physically separated portion of the venue. No one under 21 is admitted to the alcohol service area, and no alcohol is ever allowed out of the service area. Drugs of any kind are strictly prohibited at the Ball, as are weapons, no matter how cool they look. The safety of our guests, staff and entertainers is of paramount importance to us.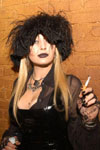 What do we suggest you wear to the Ball? Well, we do not have a dress code as such, because we understand that interesting and exciting people come in many configurations, and not all of them happen to blessed with expensive wardrobes. That having been said, we do try to present a certain theme and level of panache at the Ball, and accordingly, we encourage certain styles of dress. After all, if you want to see people in jeans and T-shirts, you can go to any old bar or club.
There are several local shops that can help outfit you. Want to raid your closet for something to wear? Read on! Our vampiric theme lends itself to a number of styles. The classic Victorian Dracula look is always appropriate. You can even stretch a bit and go with a Renaissance or medieval look if you like. Poet's shirts, bodices, top hats, and the like are quite acceptable. The modern vampire look (Blade, Lost Boys, Underworld) is also quite popular - slinky black dresses, leather pants, vinyl skirts, leather jackets, mesh shirts, and the like will fit in quite well. Formal wear is also suitable - elegant dresses and tuxedos are welcome, although you may find them a bit restrictive to dance in. Business attire will be noticeably out of place.
While you won't be turned away in a t-shirt and jeans, by dressing down you will be missing out on part of the fun at the Ball. It's a special occasion; make the most of it! It only takes a little effort to dress a bit differently. Of course, you can always put a lot of effort into it and make everyone else jealous!